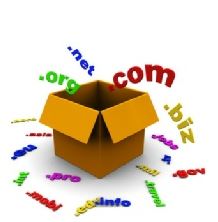 Discount prices for domain registration just $1.82 for .nz domains per month (Normally $2.41/month)
Or $19.00 + gst per year for most other domains. (Normally $29/year)
FREE PARKING: All domain names are parked for free. Only web hosting fees apply when you 'Go Live'.


FREE WEBSITE BUILDER: All domain registrations include access to a free website builder to build your own website. (Hosting fees apply when you make your website live)


FREE DNS MANAGEMENT: You can manage your own DNS settings and setup URL redirects.



Note, email services are only provided with web hosting plans
Payment can be made by Visa / Mastercard / Amex / Paypal,
and also by Cheque or Online Banking
Please Note: If payment is made by cheque or online banking, registrations will be completed once your payment has been received.
Selecting the right domain name
You should normally pick a domain name that closely resembles your company name. Short and easy to remember domains are preferable, eg use your company initials, or abrieviated alias. Leave the "Ltd" part off. If you are mainly selling to a domestic market, use a suffix like .co.nz or lthe new extension of .nz for New Zealand.
If your target market is specifically foreign, register a .com .net or .biz address.
You can purchase more than 1 address for a website, however, it achieves little in the search engines. Search engine will tend to favour your primary name, and will ignore the others. Having more addresses is really only good for managing common mis spellings, or common aliases for your company name that people may enter directly into their address bar.
It is a good idea not to impinge on someone elses trademark. Use this great NZ government website link to search trademarks, domains and companies office in one single search:http://www.business.govt.nz/onecheck
How much does it cost?
The fee for purchasing and setting up most domain names is NZ$ 19.00+GST per year. (Normally $29/year)
Payment for domain names is required within 3 days. You can pay by cheque, online banking or credit card. If you pay late, the registration process may not complete, possibly allowing other people to register your domain name.
Renewal fees are the same as registration fees for all customers hosting live websites at Web Widgets Ltd. Customers hosting websites elsewhere will pay $29/year for domain renewals.